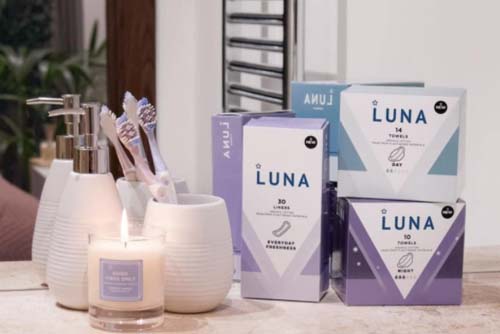 Source: www.standard.co.uk
Sanitary pads are a necessity in every woman's life. They play a big role in promoting hygiene and a sense of confidence each time when used. Sanitary pads are meant to be made in the most hygienic environment and stored in flexible packaging products that will ensure the same. This is why pay attention to the different recommended packaging ideas is so important.
It will help ensure that you provide the best products for your clients. Your packaging choice will go a long way in influencing buyer decisions. When it comes to sanitary pad packaging, here are a few ideas you should consider implementing.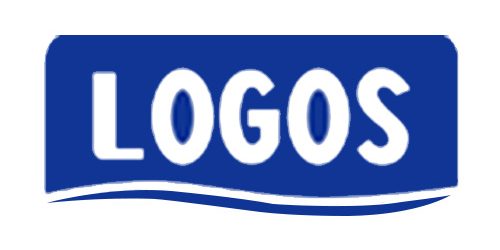 LogosPack was established in 2005 amid growing demand for high-quality flexible packaging products in China and beyond. To plug that deficit, the company quickly established itself as the number one maker of plastic materials in Fushan, and within no time, they were getting orders from other parts of the vast Asian nation.
Today, LogosPack handles even international flexible packaging supplier exports and continues to create high quality recycled product packaging like spout pouches that are used in the food and beverage industries, big pharma, chemical industries, among many others.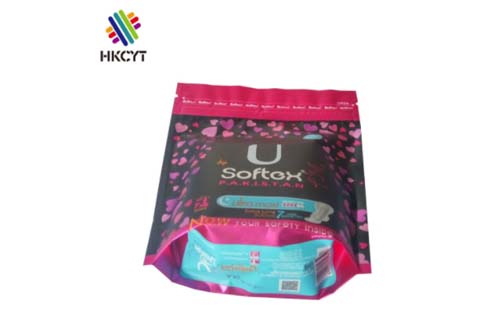 Flexible packaging is becoming the most talked-about packaging solution in the manufacturing industry. The best part about this is that it caters to a lot of products including sanitary pads. One of the most used flexible packages is the stand-up pouch. As the name suggests, this packaging product is designed to stand up even when the product is introduced. This allows it to be more visible to customers looking to make a purchase.
Granted, these stand up pouches are more popular when it comes to packing food products for sale. However, more companies are increasingly realizing its diverse nature and embracing different options. Sanitary pads being one of the products that are steadily taking over the stand up pouch packaging. A lot of manufacturers are going for this option because of the hygienic advantage.
Stand-up pouches feature a tear-off top that when opened can easily be sealed back up when done. With this, you find that your sanitary pads are not left exposed to different contaminants even after opening the package. Using stand up pouches is a great idea given that it will build trust with your customers and give you a unique selling point.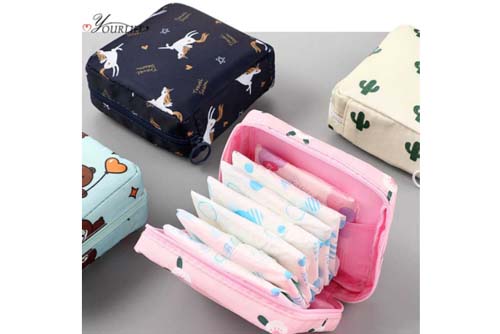 Source: www.aliexpress.com
Sanitary pad pouches are another great packaging idea you could adopt for your products. This features the use of small pouches made from a cloth-like material. Sanitary pad pouches are a great hygienic option given that they are made with the thought of ensuring they are safe already sorted.
These pouches come with a button-like lock that allows the user to easily close the pouch once they've gotten what they want. As a manufacturer, investing in these pouches will require you to be mindful of your marketing and branding. However, this is a great option and the pouches can be customized to fit as many sanitary pads as you'd wish. The best part is that you can create them in different colors. This will promote a great sense of individuality and allow you to make more sales given the unique packaging you have.
Additionally, these pouches can be designed to hold a few sanitary pads for on the go use. Having this as an option helps ensure that your clients don't have to struggle with big pouches or carry a pad without the added protection. Remember hygiene is important which means you need to ensure that your products help promote this message.
Sanitary Pad Plastic Bags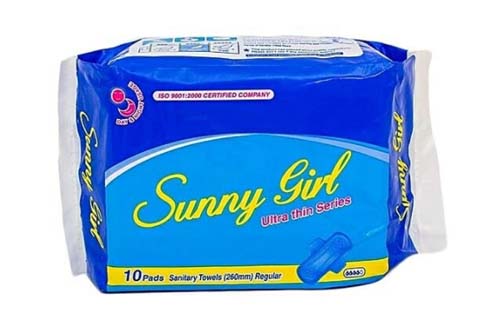 The sanitary pad plastic bags are the most commonly used packaging solutions in this case. They are cheaper to make and are more flexible especially when you're on the go. They are made of a plastic bag with the manufacturer's designs and logo on it. These packaging products are of great quality given that the sanitary pad is protected. However, once you open the packaging, there is no way to reveal it and ensure that you prevent any contamination.
To do this, clients would have to be a bit innovative and use tape each time to open and close the package. This is however an option that many women are willing to work with. As a manufacturer, all you need to ensure is that your sanitary pads are of great quality and they serve people.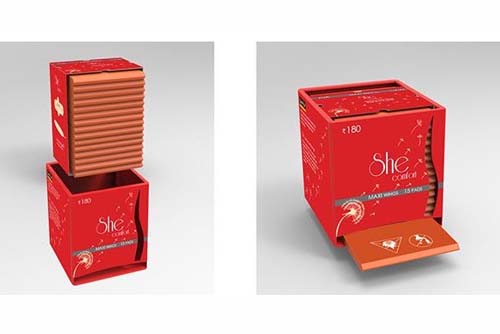 Vinyl packaging boxes are a great idea for your brand of sanitary pads. They offer great sturdy support for the sanitary pads and keep them in a hygienic environment. These boxes are great given that the users can easily open and close them when they need to. The best part about these boxes is that they come in different designs for you to choose from. For this, you need to have a clear understanding of who your ideal client is and what would pique their interests.
These boxes are easily customizable and can fit as many pads as you'd like. They are especially a great idea to cater to those who buy their sanitary pads in bulk. Having a significant number of them in one box is a great way to reduce your clients' struggles. Doing this will result in more sales for your business.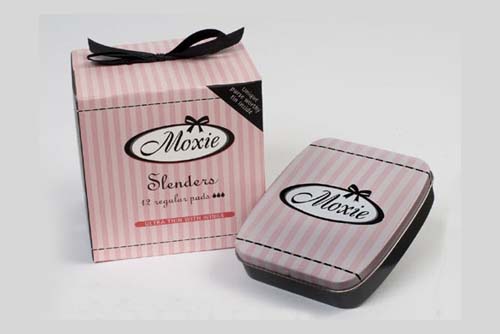 Source: talkingmakeup.com
Metal tins are another understated sanitary pad packaging solution. These tins come in small and medium sizes and feature a top lid that one can easily pop off and pick a sanitary pad. The sanitary pad metal tins are a great idea especially when traveling. They are more compact and don't take up too much space when packing. Additionally, this is a hygienic option that will ensure your clients are satisfied with the products you provide.
When it comes to these tins, you need to ensure that you take your time in branding and the quality you invest in. These two will play a big role in encouraging buyers to adopt a different packaging idea.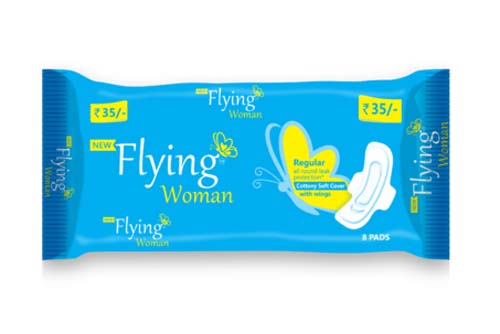 Source: www.indiamart.com
These pouches feature the use of two pieces of metal foil that are placed on top of each other and heat-sealed on three sides. Once that is done, the product is then added and the package is sealed off with a tear-away lid.
The 3-side sealed pouches can also be made using zippers or the closing mechanism on stand up pouches. This is why they are a great option for sanitary pads. with these pouches, you have the option of leaving one side clear to ensure that your clients see what it is they are getting.
Using this for your sanitary pads will provide a great opportunity for customers to relate with your product given the difference in packaging choice.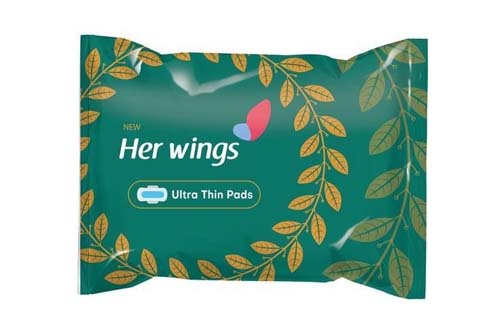 Source: www.indiamart.com
Pillow pouches are another great flexible packaging option. Over the years they have mainly been used in the food industry catering to snacks and ready-to-eat foods. However, as times go by you find that other industries are finding a clear interest in these packaging options. For instance, some companies are using this option to package their sanitary pads for distribution. This is a great idea provided you brand yourself and ensure that you give it your best.
These pouches feature strong seals on the top, bottom, and backside. This ensures that your sanitary pads are secure. The best part about these pouches is that they come with two options you could either get a resealable one an unsealable option. It's all a matter of preference.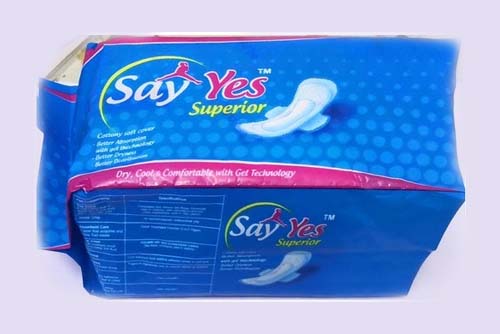 Source: www.indiamart.com
Gusseted pouches are similar to stand up pouches but are made to hold more products. They feature an oval shape on the side that allows them to expand easily when needed. These pouches feature a rectangular base that allows them to remain sturdy and erect. This packaging solution is a great idea for sanitary pads and would easily be accommodated by different clients.
Sanitary pads are an integral part of our society, especially for females. This is why investing in the right packaging product is important. With the different packaging ideas, there will something you can incorporate. Give it a serious thought and decide which packaging solution you'll go with. As you do this, remember to think of your customers and the advantage your packaging choice brings to their lives.